Take the Raspberry Lemon Cheesecakes I just posted about and make them chocolate and you've got these pretty babies. I couldn't help myself, I've just been on this cheesecake kick lately (and have, therefore run out of cream cheese) and boy oh boy am I glad I made these! Another awesome and easy recipe from
mybakingaddiction
. This girl is ah-mazing.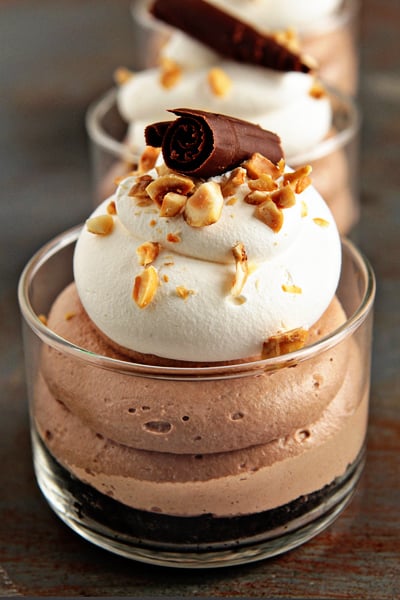 Nutella Cheesecakes
4-6 servings
12 Oreo Cookies, crushed into crumbs
3 tablespoons unsalted butter, melted
1 (8 ounce) package cream cheese, softened
2/3 cup Nutella
1 teaspoon pure vanilla extract
1 (8 ounce) tub frozen whipped topping, thawed
whipped topping, optional
chocolate shavings, optional
toasted, chopped hazelnuts, optional
In a medium bowl, stir together the Oreo cookie crumbs and melted butter. Evenly divide the crumbs between your individual serving dishes and press into the bottoms of the dishes to form a crust layer. (I used chocolate animal crackers for the crust and decided I needed to add some sugar if not using Oreos)
In a large bowl, with an electric mixer, beat the cream cheese and Nutella until smooth. Add vanilla and mix to combine. Using a rubber spatula, fold in the whipped topping until well blended and no streaks remain.
Evenly pipe or spoon the filling into individual serving dishes. Cover with plastic wrap and refrigerate for at least 2 hours before serving.
If desired, garnish with additional whipped topping, chocolate shavings, and/or toasted, chopped hazelnuts.
Recipe Source:
My Baking Addiction