Another of my go-to websites for recipes is called
mybakingaddiction.com
. I use it mostly for desserts because they are D.licious...with a capital D. So, when I needed a quick recipe for a dessert, this sounded perfect. It was yummy! I loved it, and I got quite a few compliments, so I assume others loved it too!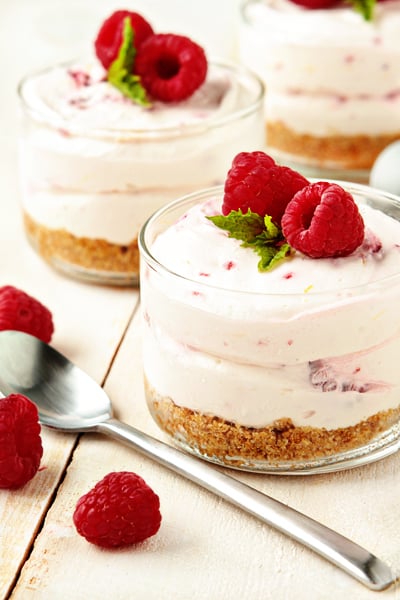 Photo Credit to mybakingaddiction.com-
Mine definitely didn't look this good, but
tasted AWESOME.
Raspberry-Lemon Cheesecake
Makes about 11 servings when using small, plastic cups
3/4 cup graham cracker crumbs
1 tablespoon sugar
3 tablespoons unsalted butter, melted
2/3 cup sugar
zest of 2 lemons*
1 (8 ounce) package cream cheese, softened
2 teaspoons fresh lemon juice
1 teaspoon pure vanilla extract
1 (8 ounce) tub frozen whipped topping, thawed
1 cup fresh (or frozen*) raspberries, mashed with a fork
In a medium bowl, stir together the graham cracker crumbs and 1 tablespoon of sugar and melted butter. Evenly divide the crumbs between your individual serving dishes and press into the bottoms of the dishes to form a crust layer.
In a large bowl, mix together the sugar and lemon zest until the sugar becomes moist and fragrant. Add cream cheese and beat with an electric mixer until smooth. Add lemon juice and vanilla mixing to combine. Using a rubber spatula, fold in the whipped topping until well blended, then fold in the raspberries.
Evenly pipe or spoon the filling into individual serving dishes. Cover with plastic wrap and refrigerate for at least 2 hours before serving. If desired, garnish with fresh raspberries and a sprig of fresh mint.
NOTES:
- If you make this into one pie, simply use pour the cream cheese mixture into a 9-inch graham cracker crust and chill for 3 hours before serving.
- This recipe tastes really delicious with blueberries and strawberries as well. Play around with different fruit combinations to create a wide range of flavors.
- I have not tried this recipe using fresh whipped cream, so I cannot attest to the results.
2/19/12-I realize this is less than a week difference, but yes, I made it again.
I used only one lemon zest...tasted awesome.
Also, fresh raspberries would give this a better flavor, but the frozen are much less expensive and taste just great.
Recipe Source:
My Baking Addiction